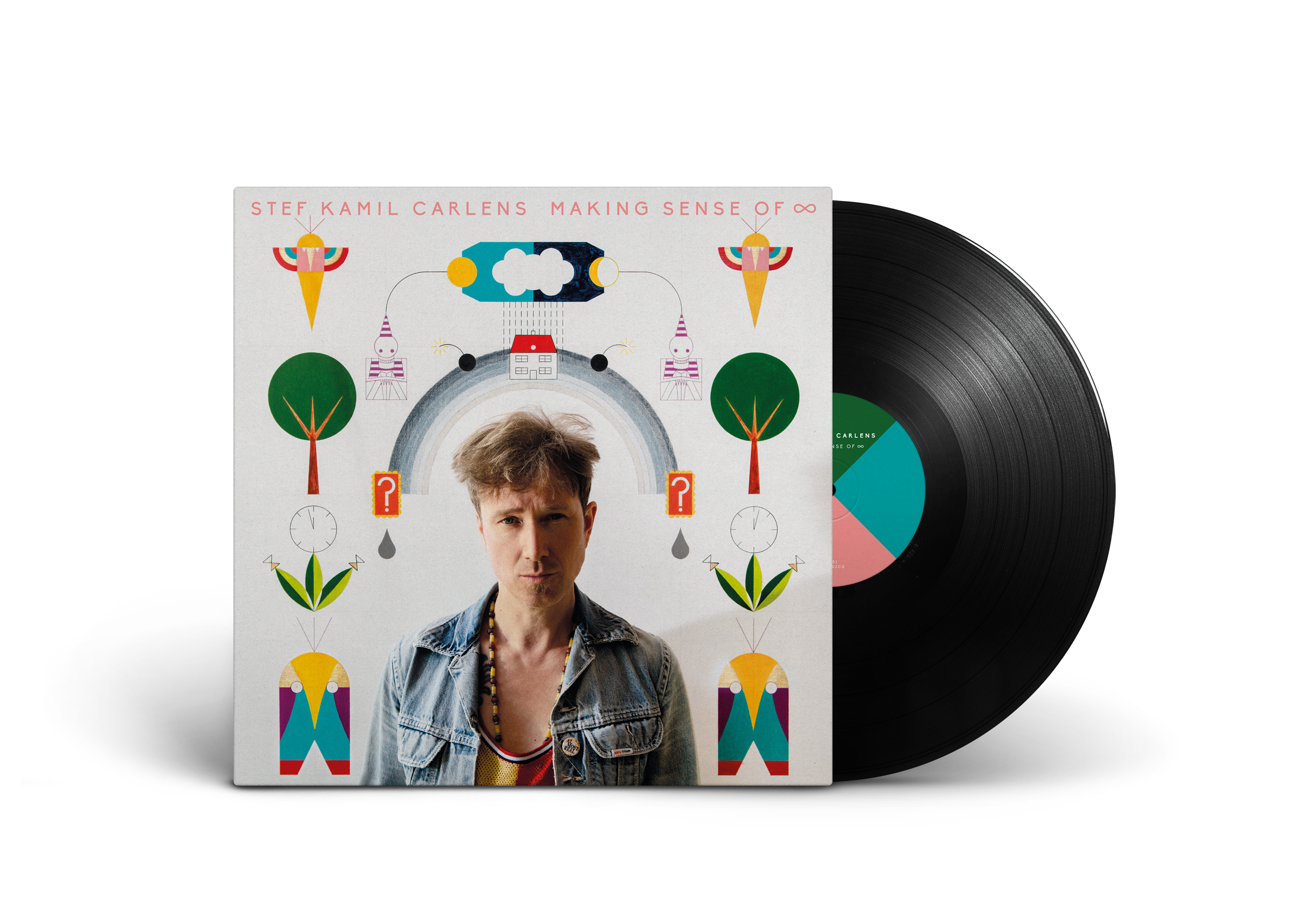 Stef Kamil Carlens is a singer-song writer, guitarist, composer, record producer and has been a soulful and energetic performer on the European music and theatre stages for over two decades now. Three years after his return to the pop circuit with "Stuck In The Status Quo", which impressed both the press and public, Stef Kamil Carlens has finished his second solo album. He recorded and completed the album "Making Sense Of ∞" (Making Sense Of Infinity) in his own Rabbit Field Studio in Hoboken.

The sound of the album echoes that of its predecessor, but is more rhythmic, at times even downright funky. The love for percussion and a general focus on the texture of the instruments characterize the vibe of Carlens' solo work. The arrangements are finely woven structures of analogue synthesizers, vintage organs, old drum machines, acoustic and electric guitars, with a lot of slide work, coupled here and there with the ethnic flutes and baritone sax of guest musician Nathan Daems, whose recently released Black Flower is a breath of fresh air in the Jazz Circuit.

The live band is also present on the album: Alma Auer plays the harp, and her voice, together with that of Nel Ponsaers, forms a clear juxtaposition to Carlen's hoarse vocals. Nicolas Rombouts on the double bass, is sometimes acoustic, sometimes very distorted, deep in the sound spectrum. Carlens often plays the drums himself, but on 4 of the 9 songs we hear newcomer Maarten Moesen, who also occasionally plays the piano and bass.

Thematically the songs explore many directions. Some are very close to himself, such as in "Making Butter, Baking Bread," dedicated to his son, or "Back On The Road" in which he testifies vigorously about the virtues of being on the road. In other songs, he is inspired by documentaries or books. For example, there is an ode to the futurist Jacque Fresco, who spent his entire life working on a detailed plan for a better world. Or a lament for the famous General Smedley D. Butler, who wrote a fiery anti-war manifesto at the end of his career.
Carlens worked on this album for 2 years. He continued to plan until the layered arrangements were fully balanced. With each listening you keep discovering new details. You hear dozens of instruments, yet it all sounds transparent. And although he likes to experiment with unconventional structures, the album has an open and inviting sound.
"I am a fan of the early music of Stef Kamil Carlens. It has always been one of a kind. It's instantly recognizable, striking and yet surprising. It has its own unique tone, its own rhythm, its own timbre that is completely original. Carlens is not looking for cheap effects, it always sounds fresh, direct and engaged. His words also testify to his commitment; they always document a part of his life, but they also raise essential questions about our responsibility in today's world. That's why his voice is important: he reaches a wide audience with authentic and unique music, which always sounds convincing and catchy. "Making Sense Of Infinity" again illustrates all of this perfectly." Stefan Hertmans
Back On the Road
I guess it's happening all over again
It's everything I've seen
Every motion's just the same old thing
It's every place I've been

I'm back on the road
I'm here
I'm back on the road

The old garden where the roses grew
Cause they always been tended and watered
Became a jungle full of weed and bamboo
I just can't be bothered

I'm back on the road
My eyes gloat
I'm back on the road
My body floats
I'm back on the road
My spirit grows
I'm back on the road

I'm doing what nature wants done
And I'm here
The eternal doubter's fate to shun
Fear is just an illusion
Now I'm here
Now I'm here

Seems like freedom's always somewhere far ahead
People looking for the mystery clue
I been listening to the voices screaming in my head
Ain't nobody gonna tell me what to do

I'm back on the road
My blood flows
My spirit grows
I'm back on the road

Making Butter, Baking Bread
Hey little girl you're so you and pretty
Trying to find your way in a decadent city
Hey little girl you got the TV on
Shit sticking to your brain like bubblegum

Making Butter Baking bread
Pumpkin soup
And garlic spread

Hey young boy you're so strong and fine
Trying to find your way and have a real good time
Out with your gang in a decadent city
Losing yourself with great alacrity
You're over here and over there
Running around like a devil may care
But when you get up early in the silent morning
Make sure that your job ain't dumb and boring

Making Butter Baking bread
Pumpkin soup
And garlic spread

May's got the strawberry
June's got the raspberry
July's got the gooseberry
August's got the blackberry
September's got the apples and the pears
October's got the walnut and the hazelnut
November's got the rain and falling leaves
In winter keep a fire in your home